What is Compost and How to Compost at Home?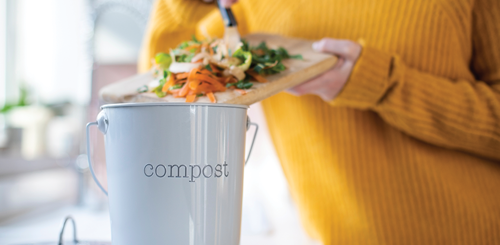 Ready for a brief lesson in the magic of transformation? So, compost – what's the deal? At its heart, it's the lovechild of organic matter breaking down over time. It's got a distinct earthy scent and a richness that your garden plants go nuts for. Think of it like a health-boosting smoothie for your garden, made out of banana peels and coffee grounds. Intrigued? Strap on your gardening gloves and let's delve into the delightful process of at-home composting.
Creating compost at home? It's a piece of cake. You'll need a compost bin or pile to get started. Toss in your food scraps and other organic materials, then sit back and let Mother Nature show off. Imagine you're whipping up a cake, only the final product isn't a tasty treat, but a nutrient-packed supplement for your soil. It's recycling on a very personal level, and you're in the driver's seat.
Composting's got a bit of a dual identity, part art, part science. It's all about balancing your 'greens' (hello, fruit and veggie scraps, coffee grounds) and your 'browns' (like grass clippings and fallen leaves). The perfect combo results in a healthy, happy compost pile. If you're heavy on the green stuff, you might end up with a damp, stinky pile. Too much brown? Your compost might stay stubbornly unchanged. But strike the right balance, and you'll be rewarded with premium-grade compost.
Vermicomposting: Role of Worms in Waste Management and Soil Enrichment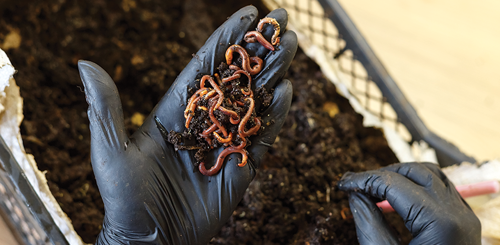 Now, let's take a sharp turn into the wiggly world of vermicomposting. And no, it's not a new kind of mindfulness practice, but a fascinating method of using wriggly worms to munch down your organic waste. Picture this: these tiny worms chomp away at your leftovers and out the other end comes top-notch compost. They're like tireless mini gardeners working round-the-clock to supercharge your soil!
If the term 'compost pile' makes you squirm, or if you're battling with limited space, vermicomposting, also known as worm composting, could be your golden ticket. It's an eco-friendly show-and-tell of nature's genius in a compact, contained setup. Plus, it's a hands-down winner with the kiddos!
Hustling hard beneath the surface!  In the compost cosmos, worms are the unsung champions. These little troopers break down your kitchen leftovers and morph it into a powerhouse of nutrients for your soil. They're on the job around the clock, and all they require in return is a consistent flow of kitchen scraps. Quite the low-maintenance roommate, right?
Within the confines of your compost heap or bin, worms along with legions of microorganisms, take charge of breaking down organic material. This phenomenon, dubbed vermicomposting or worm composting, is an engaging and efficient composting method, especially for those strapped for space. You can either set up a bespoke worm bin or invite worms into your regular compost bin. Just remember to park it in a spot that offers some shade, so your worm buddies don't work up too much of a sweat.
Community Composting: Waste Not, Want Not
Limited space? Tight schedule? Composting at home seems like a tall order? Fret not! You can still take part in the composting jubilee. Make way for community composting. Here's the lowdown: you cart your food scraps to a communal site where they're composted in bulk. It's a splendid twofer! You trim down your waste, and the resultant compost pampers community gardens and other verdant spaces. The cherry on top? You get to be part of a collective of earth-lovers, all rallying to shrink waste and enrich our dear soil. Who'd have thought eco-friendliness could double up as a social club?
The Essential Composting Tools: Bins and Piles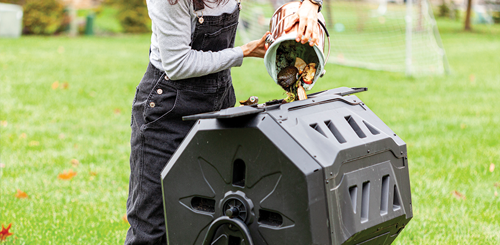 Whether you're taking the plunge to compost at your homestead or joining a community composting endeavor, there are a few nifty tools to kickstart your journey. The cornerstone of these is your composting haven. You've got the pick of the litter: a compost bin or a compost heap, based on your available space and requirements.
Got a sprawling backyard? A compost heap could be your ticket. Just pick a cozy corner, commence piling your green and brown materials, and let Mother Nature step in. Don't forget to give your heap a good stir every now and then to rev up the composting process and ensure a uniform breakdown of materials.
Now, if you're more of a 'bin' person or you've got a sneaky raccoon who keeps sniffing around, a compost bin can be your go-to option. It's more compact and tidier, too. The bin market is pretty diverse, ranging from basic containers to multi-chambered systems for sorting out different compost stages. Ain't that nifty?
Deciphering the Compost Bin World
To bin or not to bin, that's the head-scratcher. But hey, this ain't some highbrow Shakespeare play! Your compost bin's about to be your new partner in crime in this home composting adventure. Imagine it as a kind of a wizard, whipping up a spell that morphs your kitchen leftovers into garden gold.
The compost bin world is as vast as the ocean, with a treasure chest of options to fit your needs. There are twirlers, stackers, and even undercover agents you can bury in the soil. Feeling a bit crafty? Why not build your own! The end game here, after all, is to whip up a cozy corner where your waste can merrily break down into compost.
A Closer Look at Finished Compost
Your compost is ready to roll when it's transformed into a dark, crumbly substance with a wholesome, earthy scent – quite the upgrade from the food scraps and yard waste you started with! Picture this finished compost as a buffet of nutrients, like a multivitamin for your garden, fueling your plants to sprout robust and resilient.
Curious about how to test if your compost is ready for the spotlight? Scoop up a handful and toss it into a sealed plastic bag. Let it chill overnight, then get a nose-full of it the next morning. If it throws you off with a stinky stench, it's not quite showtime. But if it takes you on a sensory trip to a forest floor, you've hit the compost jackpot! It's party time – spread it out amongst your plant pals and watch them shoot for the stars.
Using Compost: Give Your Plants a Boost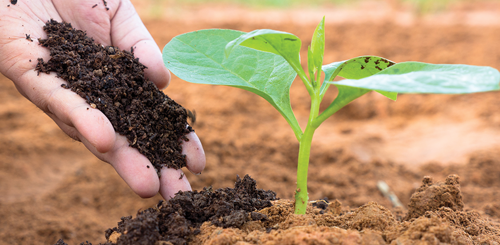 Now that you've got your beautiful, nutrient-rich compost, what do you do with it? Using compost is as easy as pie. You can mix it into your garden soil, use it as a mulch, or even brew it into a compost tea (for your plants, not your afternoon tea break!). Compost is great for improving soil structure, providing nutrients, and helping soil retain moisture. Plus, it can help suppress plant diseases and pests. 
Reaping the Benefits of Composting
No two ways about it, composting is the bee's knees. It not only shrinks the size of your contribution to the landfill but also gives your garden a healthy glow-up. Now, let's count the ways composting wows us:
Nature's own fertilizer: Compost is a buffet of nutrients that plants go gaga over. It's like spoon-feeding your garden a power-packed smoothie!
A soil structure superstar: Compost has a knack for jazzing up the texture of your soil, paving the way for plant roots to spread their wings.
Waste warrior: Composting is your ace in the hole for recycling kitchen scraps and yard waste, making the landfill breathe a sigh of relief.
Water retention wizard: Compost has a hidden talent in helping your soil keep a tight grip on water, meaning you can cut back on your watering schedule.
An environmental enthusiast: Composting in your backyard gives a hard pass to chemical fertilizers and takes a swing at climate change by lowering greenhouse gas emissions.
So, there you have it folks, a beginner's guide to composting. It's like turning lemons into lemonade, but with banana peels and coffee grounds! It's not only a great way to recycle your food waste, but your plants will thank you for it too. Now get out there and make some compost magic happen!
Further Reading:
Want even more great info brought to you directly for free?  Sign up below for our newsletter and we can bring the fun and knowledge directly to you! Or give us follow on Facebook, Twitter or Tiktok!  We are on 'em all!  We'd love to have you as a part of our community!