A Beginner's Guide to Pruning: Taming Trees and Shrubs in Your Garden
Pruning isn't just about snipping and trimming those woody plants in your garden; it's like having a heart-to-heart with nature. Imagine each cut as a whispered secret between you and the old trees, a dance step in a lively tango with your shrubs and flowers. Whether you're a beginner looking to learn the ropes or an old hand at sculpting living masterpieces, this guide's for you. So, ready your shears, and let's embark on a journey where pruning becomes more than a chore – it's a conversation with the very soul of your garden.
Outline
Why Prune? Understanding the Art of Garden Sculpting

How to Prune Trees: A Step-by-Step Guide

Pruning Shrubs: The Short and Tall of It

Rose Pruning: A Thorny Affair?

Pruning Tips and Techniques: The Cutting Edge

Tools for Pruning: From Shears to Saws

Hard Prune vs. Soft Prune: What's the Difference?
Why Prune? Understanding the Art of Garden Sculpting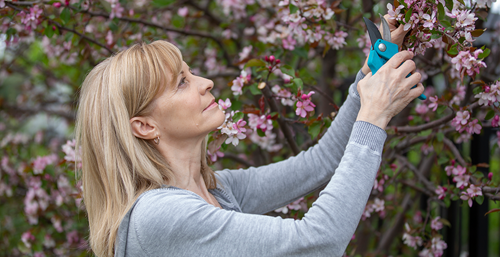 Ever thought of pruning as a day at the salon for your trees and shrubs? It's not just about snipping away; it's a full-blown makeover without the chit-chat. Picture this: shaping those branches, controlling wild growth, and bidding farewell to the dead or diseased parts. But be warned, a wrong snip is like a bad perm for your plants – there's no turning back, and the neighbors might talk.
New Growth? Think of it as Yoga for Your Garden: Pruning stretches out those branches, encouraging fresh and lively growth. It's a rejuvenating experience, minus the fancy yoga pants.
Health Check: Cutting back the old wood is like a detox for your plants, flushing out the dead or diseased parts. It's a garden health kick without the kale smoothies.
Aesthetics, or How to Turn Your Garden into a Supermodel: Regular pruning is like having a top stylist on speed dial. Want that magazine-cover look? Grab those shears, and let's turn your garden into a runway star.
How to Prune Trees: A Step-by-Step Guide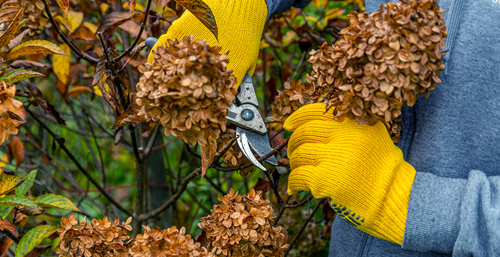 Pruning trees isn't a wild free-for-all with branches flying left and right. It's more like a waltz, a gentle two-step with your leafy partner. You wouldn't step on your dance partner's toes, so here's how to prune trees without stepping on theirs:
Timing is Everything: Think of late winter or early spring as the tree's downtime, lounging in its metaphorical pajamas. That's when it's most relaxed and ready for a little trim. It's like scheduling a haircut when you know you've got nowhere to be.
Choose Your Dance Shoes Wisely: Pruning saws, shears, and yes, even a ladder, are your dance shoes. Pick the right ones, and you'll glide through the job like Fred Astaire at a garden party.
Make the Cut, But Make it Fashion: When you cut back to a bud or branch, make sure not to leave a stub. Stubs on a tree are like socks with sandals – a fashion faux pas that the other trees will gossip about.
Easy on the Scissors: Unless you're aiming for the avant-garde bald look (and trust us, trees aren't fans), avoid heavy pruning. Trees like a stylish trim, not a full-on buzz cut. Think more along the lines of a chic bob rather than a military crew cut.
Pruning Shrubs: The Short and Tall of It
Shrubs in the garden are like the unsung heroes of a family, not as fussy as roses or as grand as trees, but always there, steady and reliable. Pruning them doesn't have to be a battle of wills. Here's how to prune shrubs and keep the garden harmony:
When to Prune? It's All in the Timing: Deciduous shrubs enjoy a good prune in the chill of late winter, while evergreen shrubs prefer a gentle snip as spring starts to bloom. It's like knowing when to tell a joke at a dinner party – timing is everything.
Shape Matters, But So Does Personality: Want to shape your shrub into something whimsical like a duck? Go ahead, have fun! But if you're more of a traditionalist, follow the shrub's natural lines. It's like choosing a haircut that suits your style.
Out with the Old, In with the Vigorous: Cutting back old wood is like spring cleaning for your shrubs. It's a fresh start, a rejuvenation, a way to tell your shrub, "Hey, it's time to grow and shine!"
So next time you're in the garden, give those shrubs a little love and attention. Pruning them is like having a heart-to-heart – a way to connect, shape, and encourage them to be their best selves.
Pruning Tips and Techniques: The Cutting Edge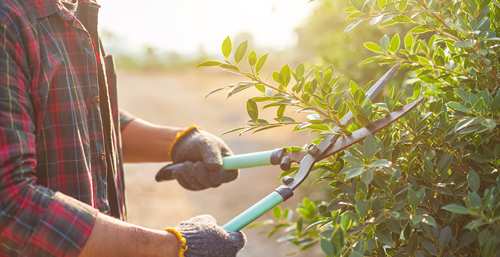 Pruning is a bit like painting, but with shears instead of brushes. It's an art form with its own little quirks and secrets. Here's some insider wisdom that even the wise old oak in your backyard might not share:
Easy Does It: Pruning too much is like that friend who tells one too many jokes at a dinner party – it's fun at first, but then it just gets awkward. A snip here, a trim there, but don't go wild unless you want your garden to give you the silent treatment.
Keep It Clean, Folks: Imagine going to a barber who uses the same scissors on everyone without cleaning them. Yikes! Dirty tools can spread disease among your plants, and the last thing you want is a garden epidemic. So clean those tools as if your favorite tree's life depends on it (because it might).
Baby Steps for Beginners: If you're new to the pruning game, don't fret. Start with the basics, like you're learning to walk before you run. You wouldn't tackle a marathon without some training, right? So grab a beginner's guide, watch a tutorial or two, and ease into it. Your garden will thank you with blooms, not boos.
Tools for Pruning: From Shears to Saws
Pruning is a bit like assembling a puzzle, and the right tools are your pieces to success. Here's what you'll need to make your garden picture-perfect:
Shears: These are your garden's best friend for those delicate snips and trims. Imagine them as a tailor's scissors, carefully shaping and crafting your plants into their Sunday best.
Saws: When the going gets tough, the tough get sawing. These are for the big, burly jobs that require some muscle. It's like having a lumberjack on speed dial, ready to tackle those stubborn branches.
Gloves: Thorns and human skin have a love-hate relationship (mostly hate). Gloves are your garden's handshake, a polite way to deal with those prickly characters without getting hurt.
Hard Prune vs. Soft Prune: What's the Difference?
Hard Prune: Cutting back severely. 
Soft Prune: Gentle shaping. 
FAQ
What's This Pruning Business really all about?  Imagine giving your plants a tailored suit, snipping away the excess to reveal their true form. It's about shaping, guiding, and nurturing, not just a random chop here and there.

Why Should I Prune? Pruning is like a pep talk for your plants. It helps them grow strong, flower with gusto, and strut their stuff in the garden. It's also a way to say goodbye to those dead or diseased branches that are cramping their style.

When's the Best Time to Prune? Timing is a fine art in pruning. Generally, late winter or early spring is the golden hour. It's like catching your plants at their most relaxed moment, ready for a gentle makeover.

How Do I Prune Without Making a Mess? Pruning is a craft. You'll need the right tools, like a painter with brushes, and a careful eye. Make those cuts clean and precise, and your plants will reward you with a flourish of growth. Remember, no stubs – that's like leaving the tags on a new dress.

Any Special Techniques I Should Know? Oh, pruning has its secrets. There's thinning, heading back, renewal pruning, and more. Each technique is like a different dance step, and knowing when to use them is the key to a graceful garden.

Can Pruning Make My Old Plants Young Again? Yes, indeed! Pruning is like a rejuvenating spa day for weary plants. Out with the old, in with the new, and voila! Your garden is fresh and lively again.

How Often Should I Play Barber to My Shrubs and Trees? Some plants love regular trims, while others are more laissez-faire. It's like knowing the tastes of your friends – some love coffee dates every week, others prefer a catch-up now and then. A good guide or expert advice can help you find the rhythm.

Any Plants That Prefer to Be Left Alone? Sure thing! Some plants, like certain evergreen shrubs, are the lone wolves of the garden. They're content without the fuss and prefer to grow in their own way.
Happy pruning, dear gardeners! May your shears be sharp, and your garden ever blooming.