Growing Your Green Thumb: A Guide to Growing Herbs Indoors for a Burst of Flavor All Year Round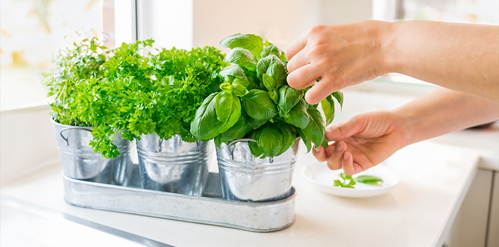 Got a hankering to cultivate some fresh herbs, like the fragrance of basil wafting through your kitchen or the zing of homegrown mint in your tea? Well, put away the wishbone, 'cause your dreams are about to sprout into reality! Whether you're nestled in a rambling rural dwelling or making it work in a compact urban pad, this guide is your golden ticket to growing herbs indoors. Green-thumbed gurus and budding garden enthusiasts alike, buckle up! The harvest of an indoor herb garden is ripe for the taking. Together, let's dig into this green escapade!
Saving Space
Indoor herb garden? Oh, don't think it's just for those toque-wearing chefs and culinary wizards. Nope, it's a hoot of an adventure, a golden ticket to fresh flavors, and a splash of green for anyone and everyone. Think your living space is a hurdle? Think again! With an indoor herb garden, those space constraints vanish like morning mist. Got an expansive garden that rivals a park? Fabulous! Stuck with just a petite windowsill? Fear not! There's always room for herbs to grow. 
Grow Herbs Inside: A Step-by-Step Guide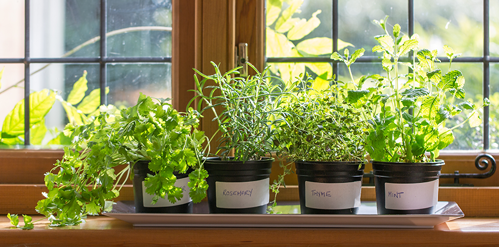 So you're eager to grow herbs inside, eh? Buckle up, green thumbs; we're about to take a wild ride through the soil and sprouts!
Selecting Your Herbs
Basil, oregano, thyme, mint - oh my! The herb world is a bustling bazaar of flavors. Before you dive in, just think about what makes your taste buds dance. What do you find yourself reaching for in the kitchen? Let's break it down with some of the rock stars of the indoor herb garden:
Basil: Got a soft spot for pesto or Italian dishes? Basil's your buddy.
Mint: Want to add a refreshing zing to your drinks and salads? Mint to the rescue!
Oregano: Pizza aficionado, you say? Oregano's standing by with its Italian charm.
Choosing the Right Spot
Oh, the places your herbs will grow! Finding the perfect spot is a bit like house hunting for plants. A sunny windowsill or a bright nook with lots of natural light can make your herbs feel right at home. But hey, if you're a bit short on sunbeams, don't fret. That's where a grow light, especially those snazzy LED ones, steps in. Think of them as sun-in-a-box, making sure your herbs don't miss out on their daily dose of rays. It's like giving your plants their own personal sunshine, even on the gloomiest days. Now, how's that for a bright idea?
Planting Your Herbs
Whether you're beginning with tiny seeds or splurging on baby herb plants, the way you plant 'em makes all the difference.
Potting Soil: Think of this as the herb's cozy bed. Opt for the kind of quality potting soil that doesn't hold a grudge - I mean, water. Good drainage is key here!
Herb Pots: Choose those pots with a few holes in the bottom. These aren't just for show; they're like escape routes to keep the water from overstaying its welcome.
Watering: Ah, the fine art of quenching your herb's thirst without drowning 'em. It's a delicate balance, my friend! Too much water can turn those roots into a mushy mess.
Remember, planting is like cooking; it needs a sprinkle of love, a pinch of patience, and a dollop of care. Happy planting!
Care and Maintenance
Love and care are essential for your indoor herb garden.
Water: Think of this as a tender hug for your herbs. You'll want to keep the soil feeling like a well-wrung-out sponge, moist but never soggy. Around 6 to 14 water hugs per herb is usually just right. It's like cooking pasta, you'll know when it's perfect!

Pruning: It might feel like you're giving your herbs a haircut, and, well, you are! Regular trims keep them looking their best and growing strong. Don't be shy; snip away! The more you trim, the more they flourish, just like a good story!
Common Mistakes to Avoid when you start an herb garden indoors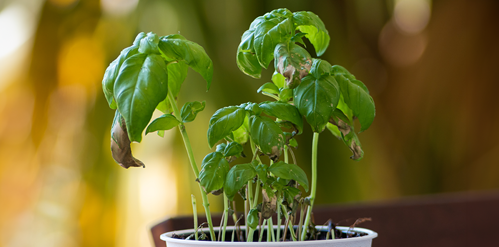 No one's perfect, but you can dodge some common blunders:
Overwatering: More plants wave goodbye from drowning than thirst. It's like feeding a cat a whole cake; moderation is key. Just be mindful with the watering can!
Lack of Light: Herbs crave the spotlight. They need their share of rays to strut their stuff. If the sun's playing shy, no worries, a grow light can step in like a supportive friend and keep your green pals happy. Ain't technology grand?
The Magic of Technology: Click and Grow Garden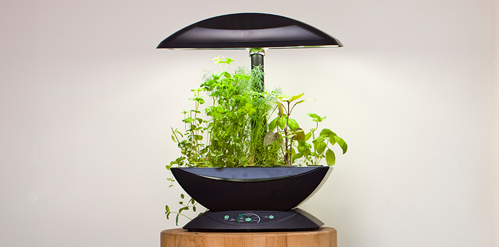 Ever wish you could just click a button and watch your herbs sprout? Well, now you can! For the modern folks with gadgets galore, "click and grow" systems have swung onto the scene, letting you grow herbs indoors without breaking a sweat.

Think of it as gardening for the 21st century, a digital green thumb if you will. Perfect for the busy bees or those who might not know a trowel from a rake but still want a pinch of fresh basil on their pasta. It's like having a garden in your pocket, without the dirt! How's that for convenience?
Best Herbs to Grow Indoors
Culinary Herbs
Roll out the red carpet for the kitchen kings like basil, rosemary, and thyme. These culinary champs don't just spice up your meals, they flat-out banish those dried, store-bought imitations from your pantry. Freshly picked flavor? You betcha!
Medicinal Herbs
Here's a juicy tidbit for you: some of those herbs don't just taste good, they do good too! From peppermint playing the role of digestion's best friend to chamomile being the bedtime whisperer, they're a herbal healthcare squad!
Aromatic Herbs
And what's that wafting through the air? Ah, the sweet scents of lavender and rosemary! These aromatic wonders don't just lift your spirits; they make those pricey air fresheners look downright foolish. Why buy a fragrance when you can grow it? Welcome to your very own indoor aroma paradise!
Indoor Growing Vs. Outdoor Growing
Thinkin' about taking up indoor herb gardening but feeling a tad uneasy since you're more at home in the great outdoors, tilling the soil and whatnot? Well, saddle up, 'cause here's a few reasons why growing herbs indoors might just tickle your fancy:
Accessibility: Forget about trekking out to the garden patch. Your herbs will be loungin' right there in your kitchen, ready to jazz up dinner at a moment's notice.
Year-round Growth: Rain, sleet, or snow – your indoor garden ain't bothered one bit. Fresh herbs? They're on the menu 365 days a year!
Fewer Pests: Say adios to those pesky slugs and aphids. Inside, your herbs can grow without fear of the creepy crawlies. It's like a garden party without any party crashers!
Preparing for Winter: Indoor Herbs Prefer Cozy
As you're warming up with a steamin' mug of hot cocoa and wrappin' yourself in those snuggly winter woollies, don't forget your indoor herbs need to feel all snug and comfy, too. Now, most herbs are a lot like us – they enjoy the same room temps. But bless their hearts, they're a finicky bunch when it comes to drastic changes. Better keep 'em away from those chilly drafts and sizzlin' hot radiators if you want 'em to grow up strong and lively. It's like tuckin' in a baby – make 'em feel just right, and they'll surely thrive.
Wrapping Up: Starting an Indoor Herb Garden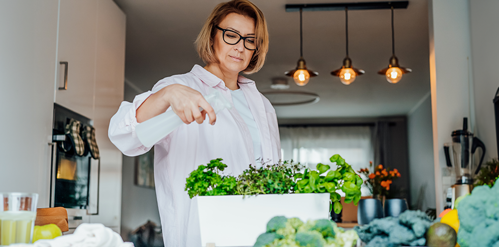 Got a hankerin' for fresh herbs all year round? An indoor herb garden's your ticket.
Pick those herbs you'll adore and find a use for, 'cause growin' what you love makes all the difference.
Find a sun-kissed spot, or if the sun's playing hide and seek, grab yourself a grow light.
Dig in with quality potting soil and keep a watchful eye on that watering, just right, mind you.
Ain't got the time or the know-how? Them "click and grow" systems can take the fuss outta your hands.
Each little green fella brings somethin' special to your homestead, from taste to smell and beyond.
Indoor growin'? You bet it's got a leg up on the old outdoor gardening in some ways.
And don't forget, an indoor herb garden ain't just a feast for your palate, but a sight for sore eyes, addin' a touch of green and a whiff of heaven to your digs. So, whatcha waitin' for? Roll up them sleeves, get them green thumbs primed, and let's turn them indoor spaces into green havens!