Space? Ah, now, don't go jetting off to distant galaxies! We're not on a mission to probe the stars, but to venture into the buzzing cosmos of vertical gardening. Yep, you read that right. We're talking about gardening, but not as you might know it. This little number is all about growing skyward. Found yourself dreaming of flourishing foliage but a wee bit strapped for horizontal ground? Fear not, my green-thumbed friend. This article is going to be your north star. Are you revved up to germinate fresh ideas and sow the seeds of enlightenment? Right, no time to dilly-dally, let's root down!
What's a Vertical Garden Anyway?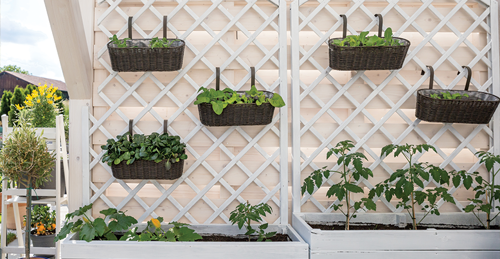 Well, a vertical garden does exactly what it says on the tin—it's a garden that shoots for the sky rather than sprawling sideways. Picture your plants doing their best imitation of Jack and his colossal beanstalk, ascending your wall like eager climbers. From an effervescent living wall packed with ferns to a trellis doing its best impression of a tomato superhighway, vertical gardens are catching the eye and stirring the imagination, from snug apartments to grand ol' manors.
Are you the proud owner of an indoor vertical garden or perhaps a sprawling outdoor vertical garden? Either way, you're part of the vertical gardening revolution! Now let's get down to the nitty-gritty.
Why Grow Vertically?
Growing plants vertically can be a huge boon for those who find their living conditions a bit, shall we say, snug. Whether you're using a wall, trellis, or even a hanging basket, there's always room for a vertical garden.
The ability of a vertical garden to take up less space is a no-brainer benefit. Traditional garden bed, meet verticality. When horizontal real estate is at a premium, reaching for the skies might just be your gardening salvation. Plus, who doesn't like a bit of greenery tickling their nostrils?
Is a Vertical Garden Better for Plants?
Well, I'm glad you asked. It's not just the humans that reap the rewards; plants in vertical gardens tend to have a happier existence too. Say goodbye to those nasty, ground-dwelling pests and soilborne diseases. In a vertical garden, your plants live the high life, out of reach of many critters and soil pathogens that could take a bite out of their well-being.
What are the Benefits of Vertical Gardening?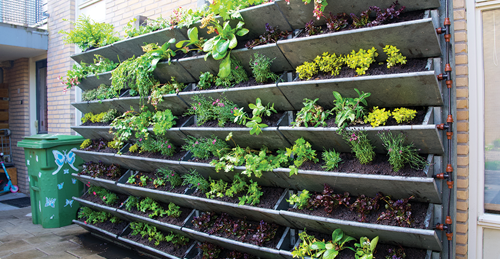 Beyond the apparent space-saving and plant health benefits of vertical gardening, there's also the simple fact that vertical gardens also look downright fantastic. Seriously, who wouldn't want to live in a green palace? It's an alluring proposition.
Can a Vertical Garden Improve Indoor Air Quality?
A vertical garden is like a big, leafy air filter for your home. It can help reduce noise and increase air quality. Who knew that wall of plants you lovingly tended could also be a green sound barrier? Now, that's a breath of fresh air.
How Does Vertical Gardening Promote Better Air Circulation?
Alright, let's not beat around the bush - plants are just like us, they're all about that fresh air life! Yeah, you heard right; plants thrive when they're on the receiving end of some nice, breezy circulation. Picture, if you will, a luxurious vertical garden acting like a green, leafy air conditioner. Having your plants grow vertically means better air circulation, cutting down on those pesky fungal diseases. It's sort of like creating a fresh air autobahn for your cherished chlorophyll friends.
Is a Vertical Garden Easier to Maintain?
Consider your usual garden bed. You're bending over backwards, squatting, maybe even getting a bit down and dirty on your hands and knees. It's not always the bee's knees, is it? But a vertical garden? It's like a cool breeze on a hot day, making the whole gardening gig a breeze to handle. Snipping, watering, reaping - all these green thumb activities are a piece of cake when your garden is at a comfy eye-level. And with a smart setup, like a drip irrigation system, you can kick back, put your feet up, and watch your garden sprout to life.
Are Vertical Gardens Suited for Urban Environment?
If you're under the impression that residing in a brick and mortar labyrinth means you can't flaunt a green thumb, it's time for a rethink. Vertical gardening is the ace up your sleeve in an urban setting. Lacking outdoor space? It's no sweat. An indoor vertical garden can morph your dull city dwelling into a verdant sanctuary. Even a petite balcony can undergo a magical makeover into a garden so stunning that even Jack and his famous beanstalk would do a double-take
Vertical Garden Types: Container, Trellis, and Green Wall
When you're sizing up the variety of vertical gardens out there, the world is truly a bottomless treasure chest. There's a sea of ways to craft a vertical garden and make it distinctively yours. Here's a little sneak peek into a few types: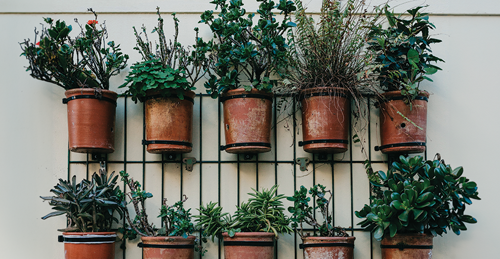 Container Gardens: Picture pots or similar vessels latched onto a wall or arranged in a vertical stand. You can whip up an entire vertical container garden on a blank wall. And if 'container' screams monotonous to you, wait till you witness the magic a sprinkle of creativity can conjure.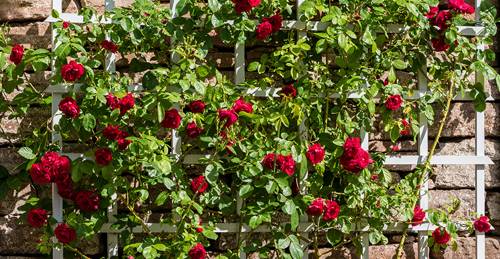 Trellis Gardens: Got a trellis? Well, you've got yourself a garden. These lattice-like frameworks can prop up everything from flowering vines to tomatoes. And with your plants making a beeline upwards, they're more visible, injecting a dynamic display of color to your area.
Green Walls: Alternatively tagged as living walls, these are the jackpot for the gardener who doesn't do things by halves. The entire wall gets a verdant makeover, conjuring a living masterpiece. And the cherry on top? You can bring it to life both indoors and outdoors.
Noise Reduction and More: Surprising Benefits of Vertical Gardens
Would you believe me if I told you that your vertical garden could double up as a noise-canceling headset? Yep, you read that right! That upward-climbing greenery can step in as a sound barrier and take the edge off the urban hustle and bustle. But, hold onto your hats, there's more. Vertical gardens are also a hotshot at chilling out your surroundings. They can crank down the temperature on a wall surface by a nifty 10 degrees Fahrenheit! So, who needs an air conditioner when you've got a vertical garden on your side?
What's the Best for Vertical Gardening?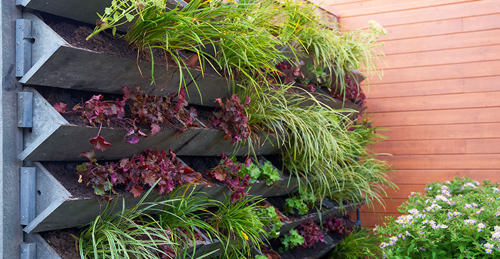 Choosing the top picks for vertical gardening is like a gardener's version of a kid in a candy store. There's an ocean of options, just as endless as a gardener's fondness for that nutrient-rich compost. Whether you're partial to leafy greens or aromatic herbs, eye-catching flowers, or those delectable fruits, the sky's the limit. All you need to consider is the bounds of your creative spirit and the sunshine at your disposal.
How Does Vertical Gardening Make Gardening Easier?
Wave goodbye to the spine-twisting, knee-creaking chore of stooping down to care for your plants. In the world of vertical gardening, everything's raised to a comfy height, transforming gardening from a physical test to a much gentler affair. The snipping, hydrating, and the simple pleasure of taking in your garden's beauty morph into a leisurely saunter through the park, rather than an impromptu gym session.
How to Create a Vertical Garden?
Champing at the bit to whip up your own vertical garden? Of course you are! The process is as straightforward as it gets. First off, pick a robust structure - think a wall or a trellis. Next, it's all about choosing your plants, and nestling them into their new home, whether that's a container, a pot, or a plant pouch. Once that's sorted, kick back, shower your green friends with the TLC they need, and marvel as your vertical garden flourishes.
Summary: Grow Vertically for the Win!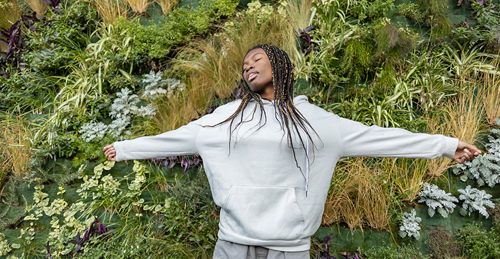 So, we've reached the end of our green voyage. Here's a quick jog down memory lane to help remember those top-notch pointers:
Vertical gardens are real space-savers compared to their horizontal counterparts. They come with a handy perk of fewer pests and diseases. These vertical marvels can boost air quality and tone down the noise a notch. They can turn gardening into an easy-peasy and inclusive endeavor. Your choices of what to grow are as wide and varied as your taste buds. Launching a vertical garden can be an adrenaline-packed adventure for gardening rookies and pros alike.
Further Reading:
Whew! Quite the rollercoaster, right? Now you're armed with all the knowledge to kickstart your vertical growth. Just remember, when it comes to vertical gardening, the sky's truly the only boundary!  
Speaking of boundaries, we don't really have any (or shame) so here's where we ask you to give us a follow  on Facebook, Twitter or Tiktok!
Or you can sign up below for our absolutely free newsletter and we can bring the fun and knowledge directly to you!