Embracing the Shade: Perfect Vegetables for Partial Sunlight
Grasping How Much Sun Your Garden Receives
Before we dig too deep into the nitty-gritty of shade gardening, let's start out by taking a second to understand the different light levels in your garden. The terms "full sun," "partial sun," "partial shade," "full shade," "light shade," and "deep shade"...they aren't just fancy jargon thrown around by gardening experts.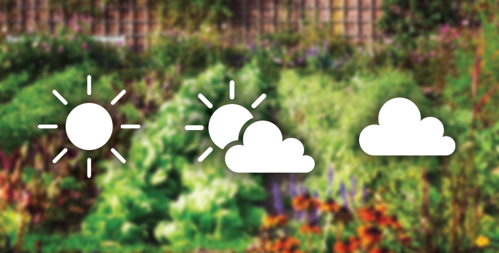 "Full sun" refers to areas that get at least six (6) hours of direct sunlight each day. "Partial sun" and "partial shade" on the other hand are somewhat interchangeable terms, referring to areas that get between three (3) to six (6) hours of sun per day. The main difference here lies in what times these areas receive their dose of sunlight. "Partial sun" areas get the bulk of their sunlight during the hotter afternoon hours, while "partial shade" areas will get it more form the morning sun, which is less significantly intense.
"Full shade" DOES NOT mean total darkness. It actually refers to areas that get less than three (3) hours of direct sunlight per day but still do receive some light. "Light shade" areas are bright but never receive any actual direct sunlight, while "deep shade" areas get no direct sun whatsoever and very little indirect light.
Getting a good understanding of your garden's light levels is critical as it will it help you to choose the ideal plants for each area. Now... let's move on to the stars of this article - the shade-tolerant vegetables and herbs!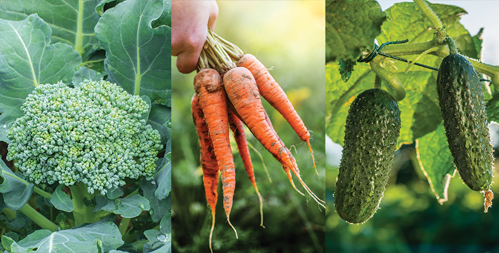 Types of Vegetables That Grow Well in Shade: More Than Just Lettuce, Spinach and Broccoli!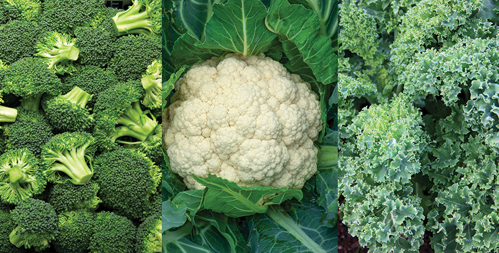 Cole Crops
Cole crops, (also known as brassica vegetables), are a cool-season group that includes broccoli, cauliflower, kohlrabi, turnips, kale, and rutabagas. These leafy greens are partial to partial shade (pun intended!). They appreciate a break from the intense afternoon sun, which too much of can cause them to bolt or prematurely produce flowers and seeds, ultimately leading to sub-par, bitter-tasting leaves.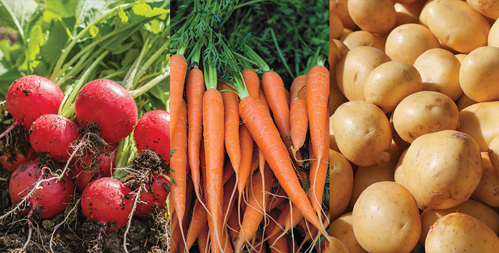 Root Crops
Root crops like radishes, carrots, potatoes, and beets can also tolerate partial shade. After all, their main action happens underground, away from the sun's rays right? However, growing these in shade may still result in slower growth and smaller harvests. But hey, size isn't everything, right?!  What they lack in size, they more than make up for in sweet, concentrated flavor.

Leafy Greens
Leafy greens such as lettuce, arugula, kale, bok choy, and chard are some of the most shade-tolerant vegetables you can grow. They can actually thrive in as little as two to three hours of sun per day!  Plus... growing them in shade can help prevent them from bolting in the heat of summer, resulting in an extended harvest period.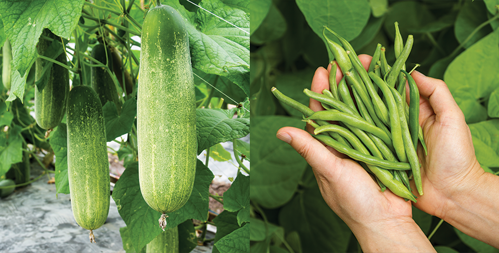 Climbing Vegetables
Climbing vegetables like cucumbers and pole beans can do well in partial shade... as long as they have something to climb on. They'll reach for the sun, providing a beautiful and edible green screen.

Perennial Vegetables
Perennial vegetables like rhubarb, asparagus, and Jerusalem artichokes are yet another excellent choices for a shade garden. Once they've established themselves, they'll provide a yearly harvest with minimal effort on your part!
Vegetables That Bolt in Partial Sun
Some vegetables, like broccoli, cauliflower, and spinach, are simply just notorious for bolting in the heat. If you're not familiar, bolting is a built in survival mechanism for plants. When the temperature starts to rise above a certain level, these type of plants will make the move to start shifting their energy from leaf production (what you want) to flower and seed production (what you don't want) as a means to ensure their propagation. As you can imagine, this results in some pretty bitter-tasting leaves. Growing these vegetables in partial shade can help to keep them cool and prevent bolting, ensuring not only a longer harvest period but also better-tasting produce.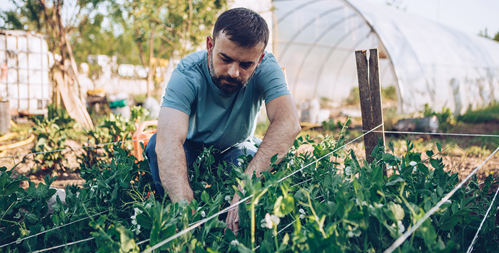 Shade Vegetables That Flourish in the Garden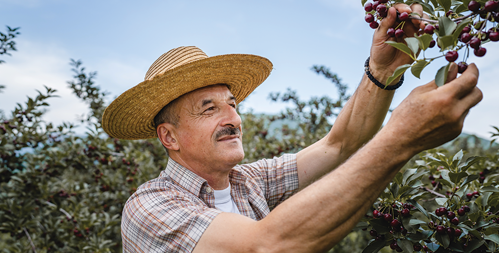 Fruits That Thrive in Partial Shade
Who says only vegetables can grow in the shade?! There's some wonderful fruits can also thrive in less sunny spots:
Sour Cherries: Unlike their sweet counterparts, sour cherries can tolerate some shade. They need at least four hours of sun per day to produce fruit.

Currants and Gooseberries: These small fruits are shade-tolerant and can produce a good crop with as little as two hours of sun per day.

Rhubarb: This perennial vegetable (yes, it's technically a vegetable, but we use it like a fruit) can tolerate some shade but needs at least four hours of sun per day for good stalk production.

What NOT to Grow in Shade
While many vegetables and herbs can tolerate some shade, there are of course others that need full sun to thrive. These include heat-loving crops like tomatoes, peppers, eggplant, squash, and melons.  Most fruit trees are also going to need full sun to produce a good crop.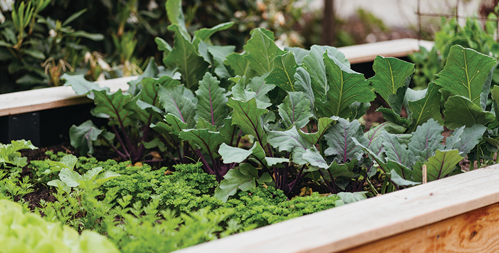 Tips to Grow Vegetables in Shade
Growing in the shade doesn't have to be a shot in the dark!  Here are some tips to help you on the path to success:
Seed Starting: Start your seeds indoors, or even in a sunny location, to get them off to a good start. Once they've grown into some sturdy seedlings, you can then transplant them into the shady area of your garden.

Light Reflection: Consider using light-colored materials (like white gravel, pale stones, or mulch) to reflect light onto your plants rather than getting sun directly.

Soil Warming: Another approach is using dark-colored materials that can help warm the soil in your shade garden. This can be beneficial for your more heat-loving crops.

Pest Control: Slugs and snails just love damp, shady areas don't they? Use organic methods like beer traps or diatomaceous earth to keep these pests at bay.

Plant Spacing: Plants grown in the shade will often need more space than their sun-loving counterparts. The reason for this is because the light that does reach them is oftentimes diffused or scattered... so they need just that little bit extra room to capture enough light.

Watering: Shady areas will usually stay damp longer than sunny ones, so do be careful not to overwater your shade garden.
Garden Plans for Partial Shade
Whether you're working with a small home garden, traditional rows, or even a community garden plot, you can create a productive and beautiful shade garden. Consider using some raised beds or containers to take advantage of the best light available, and arrange your plants so that taller ones don't happen to block the light for shorter ones. The key is to work within your garden's unique conditions, not against them.

Shade: A Gardener's Friend or Foe?
Shade in the garden is oftentimes seen as a challenge, or something you want to avoid altogether but the fact is it doesn't have to be at all!  In fact, in it's own way it can be a blessing in disguise. A shady garden will provide a cool, calming retreat on hot summer days...not just for you, but for your plants! While it's absolutely true that many vegetables and herbs prefer full sun, there are plenty that thrive - in partial to full shade. So, if your garden is on the shady side hey, don't despair. Embrace the shade!  (Then use it to your advantage).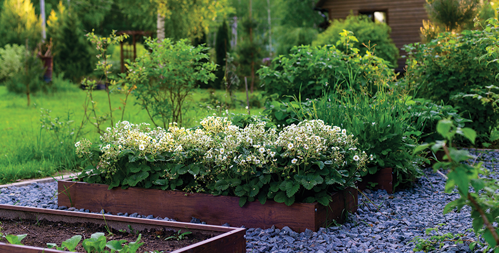 The Magic of Microclimates
Did you know every garden has microclimates?  These are small areas where the climate differs from the rest of the garden. These can be caused by various factors, ranging from: buildings, fences, trees, or even the slope of the land. Having an understanding the microclimates in your garden can help you make the right choice of plants for each area. Let's have an example, shall we? A north-facing wall might be a great spot for shade-tolerant vegetables, while a sunny spot next to a south-facing wall might be perfect for heat-loving crops.  Makes sense, right?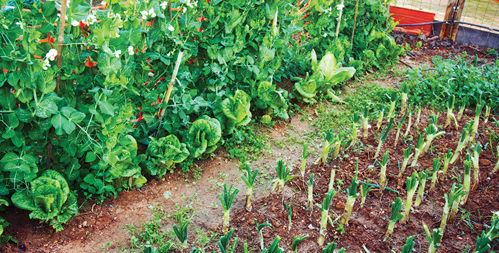 The Art of Companion Planting
One of our favorite tricks: Companion planting!  This is when you intentionally plant a bunch of different crops together to mutually benefit one another.  How do you do that you ask?  Well, in our  shade garden, this means planting the taller crops over on the north side (to avoid shading the shorter ones). Or, it could mean planting your more shade-tolerant crops UNDERNEATH the taller ones (to make use of the dappled light). For example, lettuce, spinach, and other leafy greens can be planted under tomatoes, beans, or corn.  These taller plants actually provide shade for the greens,...which in turn helps them to keep them cool and ultimately preventing them from bolting.  Talk about teamwork!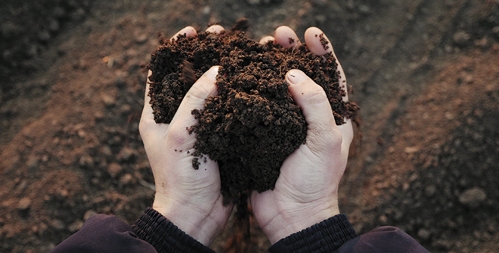 The Importance of Good Soil
Good soil is the foundation of any successful garden, but it's especially important in a shade garden. Plants grown in the shade often have to compete with tree roots for nutrients and water. By adding plenty of organic matter to your soil it will help improve its fertility and water-holding capacity.  We also suggest a thick layer of mulch to also help retain moisture, as well as suppress weeds, and add nutrients to the soil as it breaks down.
TL:DR; Questions & Answers:
Summing up the key takeaways:
1. What types of vegetables can grow in shade?
Some of our favorite vegetables that can thrive in shade include cabbage, radish, pea, cauliflower, broccoli, lettuce, spinach, beet, and Brussels sprouts.
2. How much sunlight do vegetables that grow in shade need?
Veggies that grow in shade typically require partial sun or partial shade. This amounts to anywhere between 3-6 hours of direct sunlight each day depending on conditions.
3. Can vegetables grow in full shade?
While some vegetables may tolerate full shade, you'll probably have better luck with most vegetables and herbs that prefer partial shade or partial sun to grow to their full potential.
4. Are there any tips for growing vegetables in partial shade?
Sure!  Tips for growing vegetables in partial shade include choosing varieties that tolerate partial shade or partial sun, providing sufficient water, and making sure that the soil is rich in nutrients.  Also see our section about companion planting above for a more detailed tactic!
5. Can vegetables grow well in full sun?
Yes, many, if not most, vegetables grow well in full sun. However, it's important to note that some vegetables may still require some shade during the hottest parts of the day.
6. What type of vegetables thrive in partial shade?
There are several vegetables that thrive in partial shade, such as leafy greens like lettuce and spinach, root vegetables like beet and radish, and cool-season crops like cabbage and broccoli.
7. Can vegetables be grown in a shady garden?
Yes, vegetables can be grown in a shady garden. It's important that you choose varieties that are specially adapted for low light conditions and provide them with proper care.
8. How much sun do vegetables need in a day?
The amount of sun vegetables need varies, but on average most vegetables require at least 4-6 hours of sunlight per day to grow and develop properly.  As we've learned today this is not always the case as our shade vegetables require significantly less (as little as 3) to thrive!  
9. Can vegetables grow in dappled shade?
Yes, as outlined above, many vegetables can grow in dappled shade.  Lettuce, spinach, and other leafy greens can be planted under tomatoes, beans, or corn.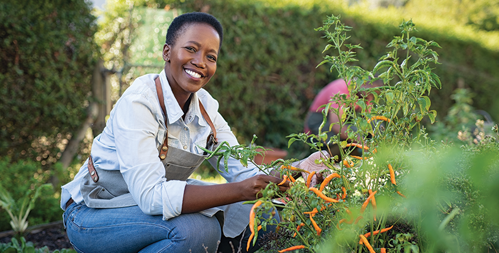 The Joy of Shade Gardening
We hope you are no longer in the dark when it comes to shade gardening!  Let's not let that shady spot go to waste! Shade gardening is as easy as picking the right plants and having the proper placement. With the tips above, we know you will be able turn your shady garden into a lush and beautiful space(...as well as productive!) 
We'd be thrilled if you gave us a quick follow on social media below (including our TikTok or and Facebook) or sign up for our wonderful newsletter (absolutely free) so you don't miss out on any similar gardening guides or delicious recipes we are currently cooking up!  It really helps the site grow and we'd appreciate having you back!
We'd also love to hear your own experiences with gardening and shady in the comments below!