How to Grow Watermelons Step-by-Step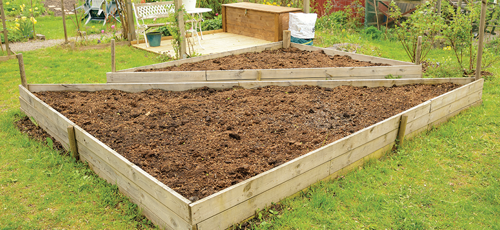 1. Start by picking a sunny spot with well drained soil. Watermelons require plenty of sun and warmth to thrive, so you'll want to plant them in a location that gets at least 6-8 hours of sunlight each day.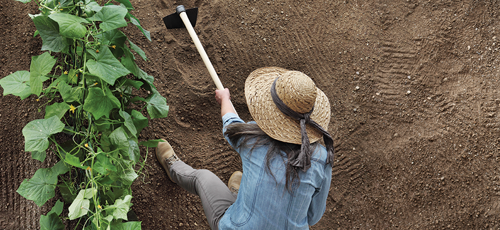 2. Prepare the soil with compost such as Jobe's Organics Compost Starter or manure before planting. Make sure to work it into the soil to a depth of at least 8 inches.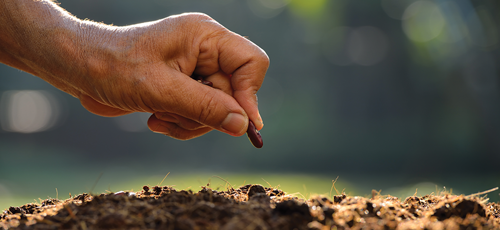 3. Plant your watermelon seeds 1-2 inches deep and spaced at least 2-3 feet apart, minimum. Obviously, watermelons will grow to be quite large, so space them out accordingly and give them plenty of space to grow. Not sure what seeds to run with? Try Gardeners Basics Watermelon Seeds or David's Garden Seeds Fruit Watermelon Sugar Baby 877 (Red)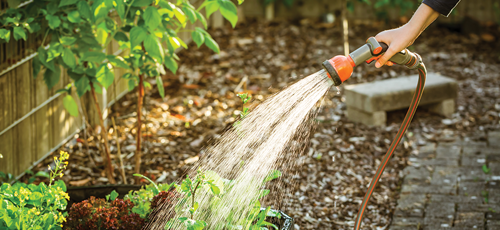 4. Water your watermelon plants regularly and deeply, but be careful not to overwater them. Once the plants start to establish themselves, they will need less and less water over time.
5. To help your watermelons reach their maximum sweetness (and juiciness!): Once the plants start to flower, give them that extra boost of nutrients by applying Miracle-Gro Garden Feeder (or another balanced liquid fertilizer).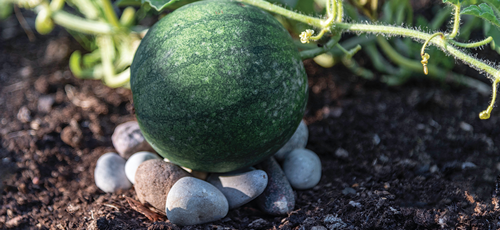 6. As your watermelons start to form, help them to stay off of the ground simply by placing a board, brick, or stone beneath them. Doing this helps keep the watermelons from getting overly ripe and also helps with disease prevention.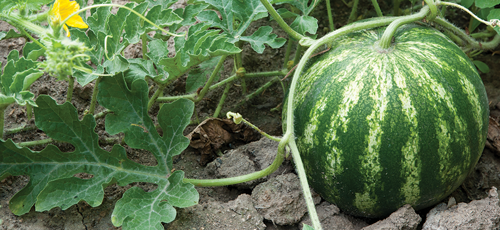 7. The watermelons should be ready to harvest after a few weeks. You'll be able to tell they are ripe when they are a deep, rich yellow-green color and the tendril nearest to the melon has dried up.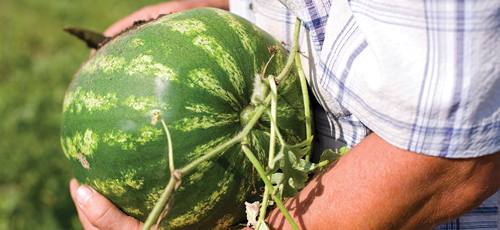 8. From there all that's left is to cut the watermelon off the vine and enjoy your delicious, home-grown fruit! (Plus, you can always save the seeds for next year!)
Recommended Items to Grow Watermelons:

1. Jobe's Organics Compost Starter
2. Gardeners Basics Watermelon Seeds, Non GMO
3. David's Garden Seeds Fruit Watermelon Sugar Baby 877 (Red)
4. Miracle-Gro Garden Feeder
5. SONFILY Galvanized Raised Garden Bed
How Long does Watermelon Take to Grow?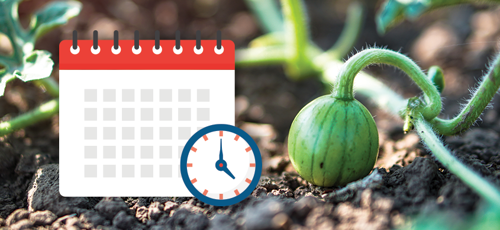 Some types of watermelon will be ready to harvest as quickly as just 50 days, while others can take up to 80! In the end it all comes down to what variety you are growing. Here are some examples of different growth times just to give you a bit of an idea:
Sugar Baby Watermelon – Grows in 50-55 days
Cream of Saskatchewan Watermelon – Grows in 65-70 days
Orangeglo Watermelon – Grows in 55-60 days
Crimson Sweet Watermelon – Grows in 70-75 days
Yellow Doll Watermelon – Grows in 75-80 days
So as you can see, in most cases you are probably looking at about 6-8 weeks for your watermelon to be ripe and ready for harvest. Feeling proactive? Speed the process along by to planting your watermelon seeds in warm soil. (This will help them germinate and grow even faster than in cooler soils!)

What is the Best Month to Plant Watermelon?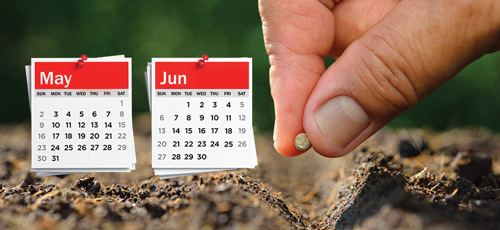 The best time to start planting is in the early summer months of May or June! In cooler climates, you may want to wait until about mid-June before planting (to make sure the soil has had enough time to warm up). If you plant in the late spring, make sure to cover up your watermelon plants with a sheet or blanket if temperatures drop.
Here's a fun idea...want to extend your watermelon-growing season? Consider planting a variety of watermelons with different maturation times throughout the season and enjoy a steady supply of sweet, juicy watermelons all summer long! (Sounds like a delicious plan to us!)

Where Do Watermelons Grow Best?
Watermelons need lots of sunshine and warmth to thrive. The ideal place to plant your watermelons is a really sunny spot with well-drained soil.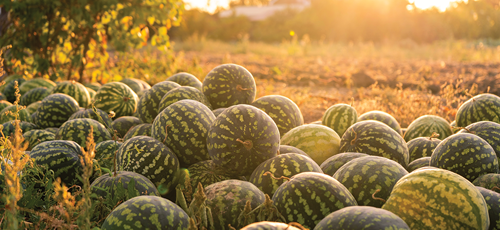 This could be a raised bed you've built yourself (or something ready made, like the SONFILY Galvanized Raised Garden Bed). A large container, or even an area of your garden can also do the job as long it meets the warmth and soil criteria. Just make sure to choose a spot that gets at least 6-8 hours of sunlight each day.
Another really important tip to keep in mind: Avoid planting your watermelons in the same spot as last year (as this can oftentimes lead to disease!).

How Many Watermelons Do You Get From One Plant?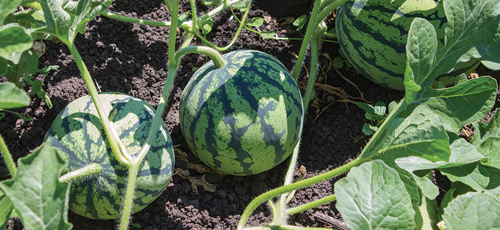 The number of watermelons you can get from one plant depends on the variety of watermelon you are growing - some varieties can produce up to 10 watermelons from one plant, while others will only produce 4-5. In most cases, you can expect to get about 4-6 watermelons from one plant. Here's a little bit of a breakdown of averages...
Varieties of Watermelon That Produce More Melons Per Plant:
Sugar Baby Watermelon – Up to 10 melons
Orangeglo Watermelon – Up to 8 melons
Charleston Gray Watermelon – Up to 8 melons
Jubilee Watermelon – Up to 8 melons
Varieties of Watermelon That Produce Less Melons Per Plant:
Cream of Saskatchewan Watermelon – Up to 4-5 melons
Yellow Doll Watermelon – Up to 4-5 melons
Moon and Stars Watermelon – Up to 4-5 melons
Crimson Sweet Watermelon – Up to 4-5 melons
Should I Trim Watermelon Vines?
Watermelon vines can grow quickly (and become quite unruly), so it's definitely important to keep them trimmed and under control!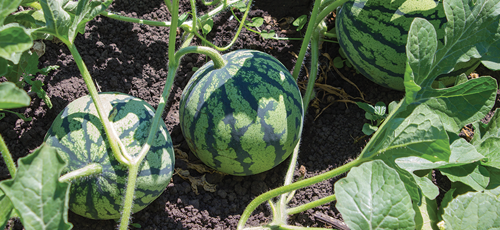 Trimming the vines helps to keep your watermelon plants both healthy and productive, as well as ensures that the melons don't get too big. (Yes, there is such a thing as TOO big!)
When trimming your watermelon vines, start by removing any dead or dying leaves and stems. This will help to keep the plants focused on producing healthy fruit instead of wasting vital energy on dead or dying parts.
Trim away any side shoots that are growing around the base of the plant to keep from becoming overcrowded. This will help the melons get enough sunlight ...and air circulation!
Do You Know When Watermelon is Ready to Harvest?

Knowing when's the best time to pick your watermelons can be tricky, that's for sure. Luckily there are a few tell-tale signs that tell you when they're ripe and ready to go!
Firstly, look for a deep, rich yellow-green color on the rind. If you look closely, you should also see that the tendril nearest to the melon has dried up. This is your #1 sure sign that your watermelon is ready for harvest!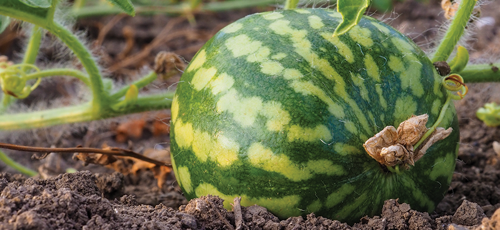 Another method you can try: give the melon a gentle thump - if it sounds hollow, it's ready to be picked! Does the rind feels smooth and firm? It does? Well that's good news because that's another sign that the watermelon is ready for harvest! Keep an eye out for these signs and you'll have perfectly sweet and juicy watermelon all summer long.
Should you leave watermelons on the ground?
Leaving watermelons on the ground can expose them to pests and moisture buildup that leads to fungal growth which then causes rotting of the fruit. By placing straw or mulch underneath them, you create a barrier between the fruit and the soil. This not only helps prevent rotting but also discourages crawling insects from damaging your harvest.
It may seem like a small detail, but taking these extra precautions is what ultimately sets gardeners apart from each other - and produces more flavorful produce!
How do you keep melons off the ground?
When it comes to keeping melons off the ground as they grow, there are a few options. A common method is to use trellises or cages to support them and create more vertical growing space. Another way is to make slings or hammocks out of old sheets or pantyhose that cradle each fruit individually. Yet another option is to place straw or mulch underneath them, creating a barrier between the melon and the soil while also allowing for airflow.
What do you fertilize watermelons with?
If you want to fertilize your watermelon patch, focus on finding nutrient-rich soil that is well-draining and pH-balanced. To achieve this balance, try adding compost or aged manure to the top layer of soil before planting. This will provide necessary nutrients while also improving moisture retention and soil structure.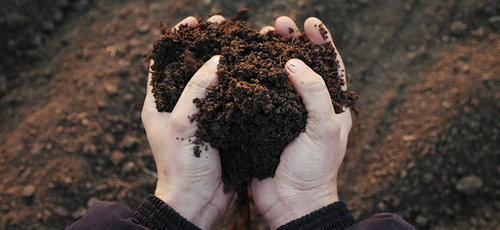 Some experienced gardeners prefer using balanced fertilizer enriched with equal portions of nitrogen, phosphorus, and potassium throughout the growing season- ensuring that each fruit has enough nutrients for optimal growth. However, overuse of nitrogen may lead to too much vegetative growth at the expense of fruit production - so always follow package instructions when applying fertilizer!
How long should a watermelon stay on the vine?
In general, most watermelons will take anywhere from 50-80 days to mature fully. However, this can vary widely based on things like soil temperature, sunlight exposure, and even the individual genetics of each fruit. To tell if your watermelon is ready for harvest, look for signs like a dulling sheen on the outside skin and stem that turns brown and appears dry.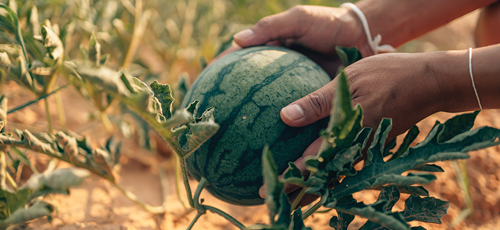 Another trick I've found is knocking on them gently- using an open palm -and listening carefully for a deep hollow sound as this often indicates that they are ripe. And if all else fails? You can always give one a taste test by slicing into it – pure heaven! Remember to keep your melons well-nourished throughout their growth period since poor nourishment results in premature ripening which leads to small fruits without optimal sweetness.
How many watermelons should I leave on vine?
When it comes to how many watermelons to leave on the vine, it's important to consider a few factors. First and foremost is the size of your plant. If it's small or struggling to grow, it's best to limit the number of fruits you leave on the vine in order to allow the plant to focus its energy on producing high-quality melons.
Secondly, you'll need to consider the variety of watermelon you're growing. Some types produce larger fruits while others may have multiple small fruits clustered together. Consider researching what tends your type has towards sparsely distributed larger melons versus many smaller ones and adjust accordingly.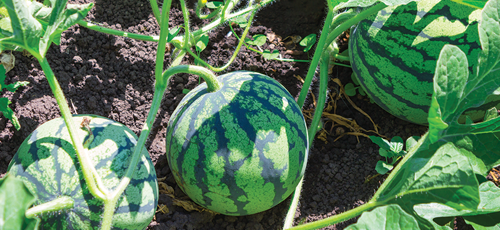 Lastly, be mindful of your climate and weather conditions. Extreme heat or lack of rain can cause fruit drop - or premature ripening leading leaving them vulnerable to pests and disease that may kill them before reaching maturity.
As a general rule of thumb, leaving four or five watermelons per vine is a safe bet for healthy growth without sacrificing tastiness at harvest time! But don't hesitate experiment- sometimes having more fruits sway from left to right with their vines looks more picturesque than just four heavyweights hanging off one plant!
Do watermelons detach from the vine?
Watermelons do eventually detach from the vine naturally when they are fully mature. However, this process is actually somewhat gradual and can take anywhere from a few days to a week.
To know when it's time to harvest your melons, pay close attention to signs such as the shriveling of leaves near the stem or the brown coloring and dry appearance of tendrils around the base of the fruit- these indicate ripeness. Keep an eye on its color too - if it's green then it has yet to fully mature but at peak readiness will display light yellow evenness. Once you're sure they are ripe or overripe already, give them a little tug - if they come away easily with a slight twist then they are ready; if not also hold off for another couple of days.
It's important that you don't pick them too early or too late because if harvested prematurely, their sweetness may be inadequate while waiting too long in hopes for more sweetness will cause breakage that alert bugs and increasing risks for rotting. Strike a balance by checking regularly especially around summer months - there is nothing like biting into a perfectly ripe juicy watermelon!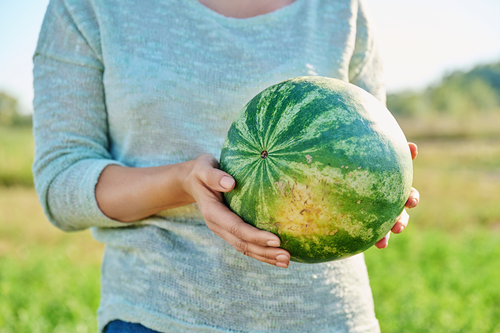 Well, folks, that's a wrap! We've covered all the juicy details on how to grow your very own watermelons - the epitome of summertime sweetness. The satisfaction of cutting one open and hearing that satisfying thwack - there's nothing quite like it.
Don't forget to follow us on Twitter, TikTok, Instagram, and sign up below for our incredible newsletter and keep up to date on our latest and greatest recipes and tips & tricks on growing your own food!