A Gardener's Guide to Raised Beds: Build, Plant, and Thrive in Your Raised Garden Bed
Raised garden beds... those delightful little patches of raised earth! We think of them like a nurturing cradle for your plants and as a shield against those ever-encroaching weeds. Whether you're a seasoned vet with soil-stained hands or a fresh-faced newb just starting to explore, we'll take a hands-on approach to building, planting, and caring for raised garden beds.
Contents
Why Choose a Raised Garden Bed?
How to Build a Raised Garden Bed: A Step-by-Step Guide
Choosing the Right Bed Material: Cedar, Treated Wood, or Composite?
The Perfect Soil Mix: What's in the Bag?
Planting in a Raised Bed: A Kitchen Garden Delight
Filling Your Raised Bed: More Than Just Dirt
DIY Raised Garden Bed: A Creative Adventure
Cedar Raised Beds: Why Cedar is a Gardener's Choice
Tips and Tricks for a Successful Raised Bed Garden
Gardening Without Raised Beds: Why You Might Want to Think Again
1. Why Choose a Raised Garden Bed?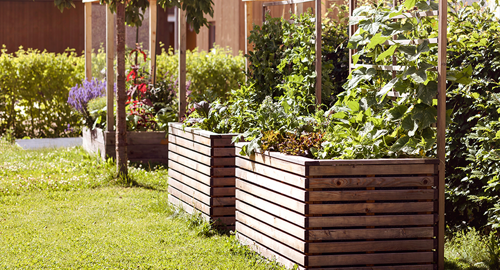 Weed Control: Picture raised beds as the mighty walls of a castle, protecting your precious plants from the invading weeds. These pesky intruders find it a real challenge to breach the defenses, leaving your garden's kingdom safe and serene.
Better Drainage: Imagine your plants, each one longing for the perfect sip of water, not too much, not too little. Raised beds are like skilled bartenders for your garden, mixing the ideal cocktail of moisture and drainage. Your plants' roots will toast to that!
Ease of Access: Ever felt like your garden was playing hard to get? Bending, reaching, stretching—it's a daily workout! Raised beds are like rolling out the welcome mat, bringing the garden closer to you. Planting, weeding, and harvesting become a pleasure, not a pain. Now, that's what I call garden hospitality!
2. How to Build a Raised Garden Bed: A Step-by-Step Guide
Building a raised garden bed is a lot like assembling a puzzle, but with wood and soil instead of cardboard pieces. And here's how you put it all together:

Choose the Location: Pick yourself a spot that gets plenty of sun and is nearby a water source. 

Select the Size: How big do you want your raised bed? Consider what you'll be planting and how much room those plants will need to stretch their green legs.

Build the Frame: Whether you're using cedar, treated wood, or composite, assemble the frame using screws or nails. 

Fill with Soil: Choose a nutrient-rich soil mix that will make your plants that is formulated especially for what you are growing to maximize your chances of a bountiful crop!
3. Choosing the Right Bed Material: Cedar, Treated Wood, or Composite?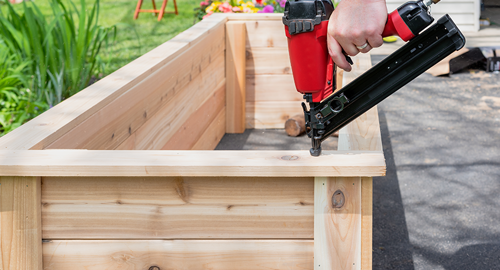 Cedar: The little black dress of the garden world. It's a) stylish, b) durable, and c) resists rot. Plus... it smells just delightful!
Treated Wood: If you're looking for something that's not only sturdy but also long-lasting, treated wood is your go-to. 
Composite: How about a more modern twist? Composite materials offer up a sleek look and as a bonus are oftentimes made from recycled materials! Your garden will be eco-chic!
4. The Perfect Soil Mix: What's in the Bag?
Soil is more than just a brown blanket for the Earth; it's the fine dining experience for your garden plants. Think of it as the Michelin-star restaurant where your greens go to dine. Here's how to set the perfect table for them:
The Entrée: Nutrient-Rich Soil - You wouldn't want a bland meal, so why should your plants? Nutrient-rich soil is like serving them a five-course gourmet feast every day. Look for soil that's bursting with vitamins and minerals. It'll make your garden green with envy!
The Main Course: Consider Your Plants - Like people, plants have different tastes. Tomatoes might love rich, loamy soil, while cacti prefer something a bit more arid. Pop down to your local garden center and have a chat with the experts about the best soil for your specific garden pals. They'll help you pair the soil like a sommelier pairs wine.
The Dessert: Avoid Compacted Soil - Imagine trying to dance in shoes two sizes too small. Sounds painful, right? That's what compacted soil feels like to your plants. Make sure your soil is loose, airy, and ready to boogie. A bit of compost can work wonders here, turning tight, unyielding soil into a fluffy mosh pit for your plants.
The After-Dinner Mint: Organic Options - If you're into the organic movement, check for organic-certified soil mixes. They're like the farm-to-table experience for your garden, keeping things natural and environmentally friendly.
5. Planting in a Raised Bed: A Kitchen Garden Delight
You wouldn't cram furniture into a room without a plan, so why treat your garden any differently? Arranging your raised bed is like choreographing a dance, and you're the mastermind behind the moves. Here's how you can make your garden shimmy and shake with grace:
1. Building Your Ensemble: Choose Your Plants Vegetables, flowers, herbs - oh my! Picking the right plants is the first step in your garden's dance routine. Seek out those that thrive in your area and play nice with your soil. It's all about getting the right partners to tango together.
2. Crafting the Choreography: Arrange with Care Now, take a good look at your dance floor – that raised bed waiting for some action. You've got to consider the height, sunlight, and growth patterns of each plant. Set them up in harmonious lines, much like dancers waiting for their cue. Create spaces where each plant can flourish and twirl without stepping on its neighbor's toes.
3. Hydration Harmony: Water Wisely Here's where the rhythm comes in. Watering is the beat that keeps your garden grooving. Drown them, and you've got a soggy mess. Leave them dry, and the dance falls flat. Tune into the needs of your plants and find that perfect melody of moisture. It's not too much, not too little - it's a splash of perfection.
The Final Flourish: Loving Care Don't just plant and prance away; your garden needs an attentive dance partner. Keep an eye on those blossoms and veggies, tweak the arrangement as needed, and don't be afraid to change up the routine. Much like a dance, a garden is a living, breathing thing that responds to care and creativity.
6. Filling Your Raised Bed: More Than Just Dirt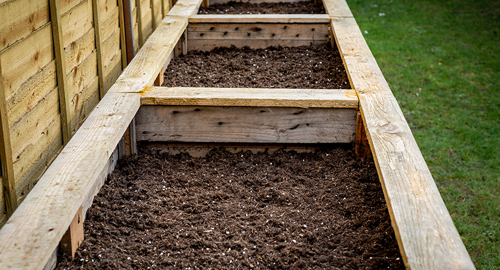 Make sure you have everything you need...here's what to include:
Good Quality Soil: Get off on the right foot with nutrient-rich soil. This will serve as the foundation for what come next!
Compost: Compost is the equivalent of a vitamin boost for your plants. By retaining moisture, it will help to enrich the soil and everything that will grow in it.
Mulch: A layer of mulch helps to keep soil moist as well as preventing weeds from being able to sprout.
7. DIY Raised Garden Bed: A Creative Adventure
Choose a Design: A simple rectangle will do the trick, but why not try an octagon? I triangle in a corner? A parallelogram? (Okay maybe we can't think of where you'd use a parallelogram...but maybe you can! It's your garden and there's no rules here!)
Gather Materials: Cedar is a popular choice (more on this below) but any treated wood will do the trick, Paint or stain BEFORE you start planting for best results.
Involve the Family: Building a raised bed...it's a family affair! Why not get everyone involved? Building a raised bed as a family will not only be a good learning experience but also will be something you can bond over for months and years afterwards as you watch teh fruits of your labor grow form the raised bed you built as a family.
8. Cedar Raised Beds: Why Cedar is a Gardener's Choice
While you can build a raised bed out of many types of wood, using Cedar is our go to and we'll tell ya why!
Durability: Cedar woods has high-resistance to rot and insects, so it simply outlasts other woods.
Aesthetics: Cedar has a elegant, natural look that should complements any style garden.
Eco-Friendly: Most cedar you'll come across will be sustainably sourced, so if making a green choice is important to you, it's a great, sustainable way to go.
9. Tips and Tricks for a Successful Raised Bed Garden
Rotate Crops: Don't plant the same crops in the same spot year after year. Rotating them yearly to keep things fresh will help maximize results.
Keep it Clean: Take special care to remove dead or diseased plants to keep the area weed-free.
Water Wisely: Whether you invest in a high quality watering system, or take the time to water manually, watering your plants properly (regularly without drowning them) is absolutely essential.
10. Gardening Without Raised Beds
Of course gardening without a raised bed is also a viable road, but you might be denying yourself following incredible benefits:
Soil Control: When planting in a raised beds, you get complete authority over the exact soil mix.
Pest Management: Raised beds are a great first line of defense to help keep some pests at bay.
Accessibility: Raised beds make gardening accessible to almost everyone.
Build A Raised Garden Bed – A Gardener's Best Friend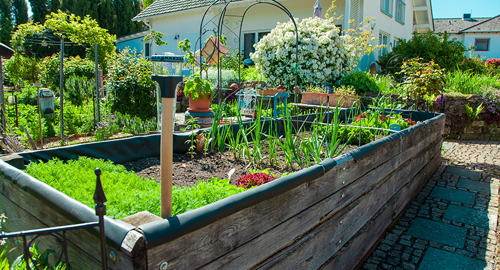 Gardening with raised beds is a practical and enjoyable way to garden. No matter if you are growing vegetables, flowers, or herbs, raised beds simply offer so many incredible benefits...
Why Choose Raised Beds? Weed control, better drainage, & ease of access.

Building Your Raised Bed: You get to choose exact location, size, and materials.

Soil Matters: Make the most of nutrient-rich soil mixes while avoiding compacted soil.

Planting Tips: Choose the right plants for your needs. Arrange them with care, & water wisely.

DIY Options: Get creative and make it a project the whole family will enjoy!

Why Cedar? Durability. Aesthetics, Eco-friendliness.

Success Tips: Rotate those crops, while keeping it clean, and watering wisely.

Whether you're a seasoned pro or just starting out, I hope this guide has inspired you to roll up your sleeves and get a plantin'. Remember, gardens are a place of growth, not just for plants but for us to grow as people ourselves as well. Let's grow something beautiful together! Happy gardening!


We'd love to hear your experiences in building a raised garden bed in the comments below or your favorite social media (we're on all 'em!).